As a source for thousands of live, interactive worksheets to use in the classroom, Liveworksheets.com is a tremendously helpful website for teachers. The site has a library of worksheets on 65 subjects in 99 languages. A tutorial guides teachers on how to create interactive, live worksheets and how to use them optimally in the classroom, for homework, and also for teaching online. Liveworksheets.com provides educators with the option of registering workbooks for their students, which enhances control and purpose with homework.
What are "live" worksheets?
Liveworksheets.com enables teachers to transform their traditional printable worksheets (doc, pdf, jpg, etc.) into online exercises with self-correction, which is why it is called live worksheets or "interactive worksheets."
On their website, Liveworksheets.com furthermore incorporates new technologies such as sound bites, videos, memes, drag-and-drop features, multiple answer options, and even speaking exercises. Adapting to these live worksheets is easy for students, who are all familiar with using headphones or the recording functions of their phones, tablets or laptops. This makes interactive worksheets ideal for ESL and other language teachers.
Where to find live worksheets?
To find live worksheets to use, teachers simply go to the section marked interactive worksheets on the website of Liveworksheets.com and then select the subjects they are teaching. For example, I teach English as a second language, so, I can search for live worksheets providing grammar exercises in the past tense. The website has a tutorial and a video tutorial on how to make and use worksheets.
How to use live worksheets
The Liveworksheets.com website provides options that are great for class, using either a projector or the hybrid method of interacting with students via e-mail/ WhatsApp and other media, having shared the relevant worksheet with students for homework. The same applies if you're teaching online. Simply copy and send worksheets to your students. They in turn must complete and mail it back for you to check on their homework. There are many types of worksheets; drag and drop the best ones for your lessons. It is also easy to create personalized interactive worksheets.
Step by step instruction
To get started, just log in on Liveworksheets.com. Then go to Upload. There are many worksheets, so first select a suitable one for your lesson. Next, proceed to type in questions and answers in the worksheet you have selected. It is very easy to use, just drag a square and then you type in the correct answer. Then save the document. There is also a preview function.
If you are uncertain about what to do, go to the Question Mark and it will explain everything. You can create a 'Select Box Choose,' so your students can pick between two answers. Otherwise, set up a Multiple Choice option where students have to select either yes or no. The questions and answers can also be joined with arrows. Students can drag and drop and connect the correct answers.
Using audio with live worksheets
Live worksheets can include listening exercises by loading up some audio. Explore the audio file on the website by using Word Search.
There is also a video explaining how to do that, and also on how to add Mp3 files, YouTube videos, or PowerPoint links to create interactive worksheets for students. These live worksheets can then be added to workbooks. Each student can be assigned a workbook that is then electronically sent to them.
You will have to register your students first, though. Otherwise, just go to the interactive worksheets and add the file to the workbook that you've already created.
Live worksheet examples:
Here are a few examples of live worksheets:
Single and Plural Nouns, Grade 4, My Body
This live worksheet incorporates soundbites and is aimed at Grade 4 (students between 6-10 years old). The topic is 'My Body.' Students must practice to distinguish between single and plural nouns.
Weather – Complete the sentences
This live worksheet is for ESL students of ages 9 to 15, teaching them about the weather. They must complete the sentences. It requires knowing the days of the week, weather forecast, activities, and hobbies, using the past simple and future tense.
Reading Comprehension Worksheet
This example is reading comprehension about 'The Simpsons' and focuses on the possessive 's'.  
Live worksheet on Science – plants
This is an example of many similar live worksheets under the heading of Science. A total of 65 subjects are covered.
Using live worksheets in workbooks
The teacher can create an interactive workbook for each student with instructions on which worksheets to do. The students do the worksheets online and send their answers to the teacher. This motivates students to complete homework at a set time. It makes teachers' work easier and saves time scoring students' work, and communicating with students on an individual level in the comfort of being online. Having a workbook of each student's worksheets make control and revision easy. It also saves schools a fortune on resources by not printing worksheets.
The Free Accounts version of Liveworksheets allows teachers to register ten groups of students and create ten workbooks per group of ten students for a total of 100 students! Each workbook can hold 120 worksheets.
How to create workbooks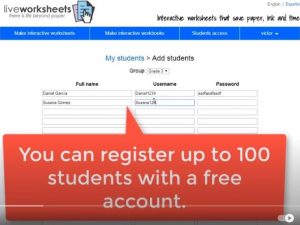 This website enables the teacher to create a workbook for each student, scoring their work and thus communicating individually in the comfort of being online. The benefits of these workbooks with interactive worksheets for online teaching are obvious.
The other remarkable aspect of this website is that there are worksheets available on many subjects and in many languages that have been created by other teachers that are being shared.
Let's investigate how teachers can use Liveworksheets to create workbooks for students and then find and use interactive worksheets optimally.
How to download live worksheets
Teachers can add interactive worksheets to their own websites or blogs. They can embed their own worksheets and even that of other teachers (when they've allowed the option). There is a special code to insert into your website, just open the worksheet and click "Embed in my website or blog" to receive the code.

Many worksheets are downloadable in pdf format when the author (other teachers) has allowed this option, but there is a limit to downloading ten worksheets per day.
Live worksheets in 65 subjects
Another remarkable aspect of this website is that live worksheets are available on a large diversity of subjects and in 99 languages that have been created and shared by other teachers.
Live worksheets are available in the following 65 subjects:
Accounting
Aeronautica
Afrikaans
Art
Biology
British History
Business
Business Studies
Chemistry
Civics
Classics
CLIL
CLIL Geography
CLIL History
CLIL Geography
CLIL History
Computer science
Dentistry
Earth Science
English as a Second Language (ESL)
English for Academic Purposes (EAP)
English for Specific Purposes (ESP)
English language
English Language Arts (ELA)
Environmental education
Environmental Studies (EVS)
Financial Literacy
General Knowledge (GK)
Geography
Geology
Grammar
Health science
History
Human Communications
Information and communication technology (ICT)
Integrated Studies
Islamic Education
Law
Lengua Castellana
Life skills
Literature
Math
Mechanics
Moral Education
Music
Natural Science
Other subjects:
Phonics
Physical Education (PE)
Physics
Preschool
Principles of Accounts (POA)
Reading
Religious Education
Religious Studies
Resolutions
Science
Social Emotional Learning
Social Science
Social Studies
Special Education
Spelling
Sports
Tecnologías de la Información y la Comunicación (TIC)
US History
Writing.
Languages covered by Liveworksheets
Worksheets are available in the following 99 languages:
Abkhaz
Afar
Afrikaans
Akan
Albanian
Amharic
Arabic
Aragonese
Armenian
Assamese
Asturianu
Avaric
Aymara
Bambara
Bashkir
Basque
Belarusian
Bosnian
Bulgarian
Burmese
Catalan
Chamorro
Chechen
Chinese
Cree
Croatian
Czech
Danish
Dutch
Eastern Punjabi, Eastern Panjabi
Esperanto
Estonian
French
Galician
Georgian
German
Greek (modern)
Guaraní
Haitian, Haitian Creole
Hebrew (modern)
Herero
Hindi
Hungarian
Icelandic
Ido
Indonesian
Irish
Italian
Japanese
Javanese
Kannada
Kazakh
Khmer
Korean
Lao
Latin
Latvian
Lithuanian
Macedonian
Malay
Malayalam
Maltese
Marathi (Marāṭhī)
Mongolian
Nepali
Norwegian Bokmål
Old Church Slavonic, Church Slavonic,Old Bulgarian
Oriya
Persian (Farsi)
Polish
Portuguese
Quechua
Romanian
Romansh
Russian
Samoan
Sanskrit (Saṁskṛta)
Serbian
Sinhalese, Sinhala
Slovak
Slovene
Spanish
Sundanese
Swedish
Tagalog
Tahitian
Tamil
Telugu
Thai
Turkish
Ukrainian
Urdu
Uzbek
Valencian
Vietnamese
Welsh
Yoruba
Zhuang, Chuang
Zulu
📜 https://www.liveworksheets.com/
📘 1000 Questions and Answers to Learn English! ► https://amzn.to/3DisGfC
🎵 Audiobook ► https://bit.ly/etaudiobook