This is a fun personality game you can play with your friends or students in class.
How does it work?
Ask each student to make three columns on a piece of paper, with room to write to the right of each column.

First Column - Animals in order of preference:
The first column contains these animals in order of their personal preference: pig, tiger, horse, cow, and sheep.
Second Column - Adjectives for each of the following nouns: dog, cat, rat, coffee, and ocean.
Third Column - The names of people they associate with each of the following colors: yellow, orange, red, white, and green.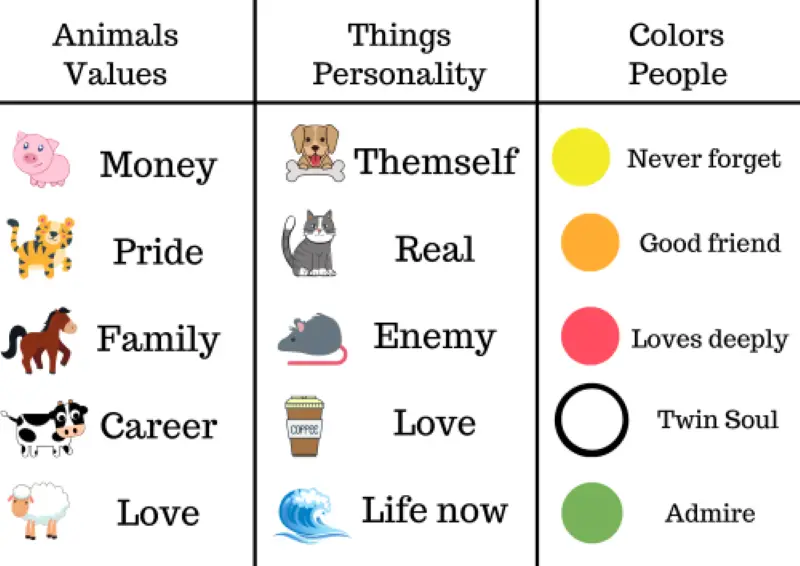 1. Column of Animals
Each of the animals in the first column represents the role a certain element plays in that persons life.
The order in which they are ranked demonstrates the priority that specific thing has in the students life.
The pig represents money.
The tiger represents pride.
The horse represents family.
The cow represents career.
The sheep represents ones love life.
2. Column of Adjectives
The relates to the students views of himself and others.
The description of the dog represents how that person sees themselves.
The cat describes that persons actual personality.
The rat describes their enemys personality.
Coffee describes that persons love life.
The ocean represents the students current outlook on life.
3. Column of Colors
The third column represents the roles that other people play in the students life. The colors represent the following values:
Yellow is someone the writer will never forget.
Orange represents a really reliable friend.
Red is someone the writer loves deeply.
White represents the students twin soul.
Green is the person the writer looks up to.
Group discussion
The next step is to let the students form groups to share their lists with each other. Let them say what they think about their results with the personality test.
Each of the categories represents something different about the students personalities and their relationships. The following eight are examples of character traits:
Honest.
Brave.
Compassionate.
Leader.
Courageous.
Unselfish.
Loyal.
Feedback Questions
Finally, take feedback from the groups. They must discuss if the test has any merits.
The following questions may help them:
Is this personality test accurate or not?
Is this personality test just for fun or a real test?
Would they like to test their family members at home?
Advanced students:
Do they know about some actual personality trait tests?
What do they think about personality tests?
Have they been tested or not? Would they like to be tested?
What personalities do they think they have?
How would they describe their personality traits?
Would they be interested in studying industrial psychology?

I hope you will enjoy this activity!