What is Scattergories and how can it be played online? Scattergories is a word game that challenges players to think of words starting with a letter of the alphabet within a random set of categories. This board game can now also be played online with the aid of random wordlists that are auto-generated and for free on websites such as Swellfargo, Catergories, and City, Country, River. The game provides excellent vocabulary practice for English learners and is a great tool for English language teachers.
How to play Scattergories Online using Zoom
There are 3 simple and free websites to play Scattergories online. These can be played while using a platform such as Zoom. First is the Swellgarfo version as discussed in the following video:  
In Scattergories, the websites picks a random letter and 12 categories. Players then have 3 minutes to write unique answers to each category starting with the chosen letter. For example if the random letter is "D", students must write down words starting with D next to each of the categories, which could be "types of animals; kinds of vegetables; kinds of sport" etc. The names could be donkey, dove, or dolphin in category one, where students have to decide if birds and fish are animals. If the student can't think of a vegetable starting with D, they leave the category blank and continue to the next category, sports, where they can write 'darts' or 'diving'.
You can let students do it individually, in pairs, or place them in groups. It's fun to play in normal or online classes. This is a great activity to use, even when unprepared. The online version looks like the following:
FREE Websites to play Scattergories
It is possible to play Scattergories Online for free using websites such as Swellgarfo , Catergories and City, Country, River. Players can play Scattergories on Zoom with one player as host doing a share screen, showing the random letter and 12 categories for which suitable words must be provided. Each player completes the Scattergories list in their chatbox, and then sends it to the host or to whoever acts as the predetermined judge. Players have a fun time checking answers and the judge keeping score.
Scattergories was originally only a fun board game, where a 20-sided dice was used to pick a letter and pre-made category lists used to write on, but can now be played in online parties and online classes. The online and app versions of the game are the same as the board game, except that the random letters and lists are computer-generated which is quicker and more convenient.
Online Scattergories is especially useful for learning English as learners can practice existing vocabulary and learn new words in a fun way.
This article will explain exactly how to play Scattergories Online for free.
How to play Scattergories
To start, pick a random letter from the alphabet. (All letters are available except Q, U, V, X, Y, Z as they have limited vocabulary and may be too difficult).
Choose 12 random categories – These are also called Scattergories Lists
Players have 3 minutes to write a unique word for each category starting with the pre-selected letter.
After time is up, players check their answers. If they have an original answer, they receive a point.
If players have a similar answer, no one receives a point.
One game usually consists of 3 x 3 minute rounds
At the end of the game the player wit the most points, wins.
Here is an example Scattergories Game:
If the letter is B, a player could for example fill in the following on the Scattergory list.
Boys name – Ben
TV show – Brooklyn 99
Animal – Badger
Countries – Belgium
Fashion Brand – Bavari.
Scattergories Rules
As a word game, Scattergories challenges the vocabulary strength and imagination of participants within the time limit. This forces players to think fast and under pressure. Basic rules for Scattergories are:
Players must write words matching each of the categories in the allocated time.
No adjectives may be used before nouns. For example: "red BMW" for "cars that start with the letter R" will not count.
Players must complete their list of words within the set time of 1 to 3 minutes; writing it down in the case of a classroom situation and/ or typing it in chat box when using online versions.
A word may be used once only in a round; it cannot be repeated in a second category. For example: The word orange can be used for "fruit that starts with O" but not be repeated for "colors that start with O".
Give bonus points for using the initial letter twice in an answer. For example: the alliterative answer 'Dunkin Donuts' for "a place to buy fast food;" or 'Marilyn Monroe' for "name of a movie actress that starts with M."
No made-up names or foreign languages may be used. These rules and the debate regarding which words do not qualify is the both fun and educational for students.
Remember that the teacher can set the rules depending on the level of the students. Bonus points can be awarded for the longest and thus most creative words, but as always, be absolutely hundred percent fair in allocating points.
In the case of more advanced students, decide on which dictionary (Google too) to use to determine the legality of words. (In the online 'Categories' game includes a dictionary.)
Scattergories boardgame ► https://amzn.to/3A8OzfS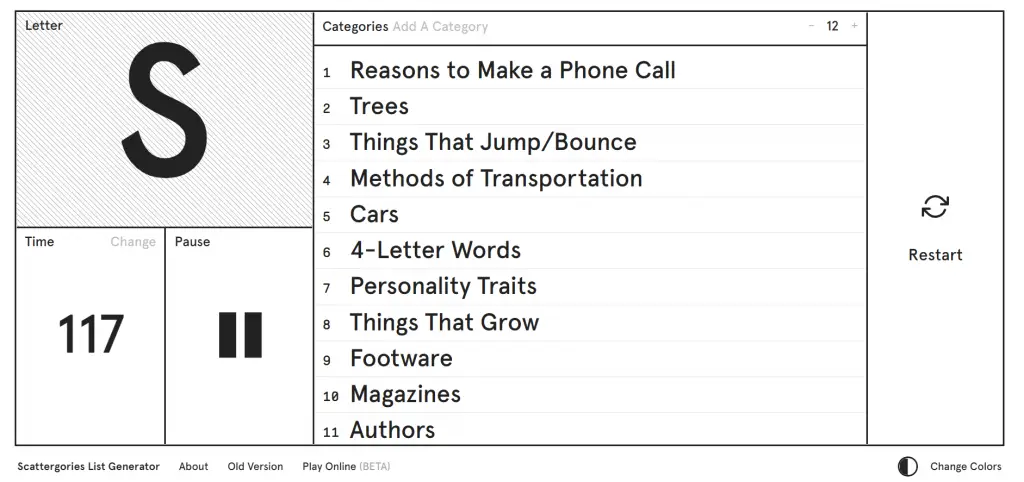 How to play Scattergories using Swellgarfo
Swellfargo is an easy-to-use website that randomly generates categories, picks a random letter and provides a timer to easily play Scattergories online.
Using Zoom, the host uses share screen to display the lists to the other participants, who can either write their answers on paper and then display it to the rest of the class; or alternatively, type their answers into the chat. Once time is up, the players debate the merits of the answers and decide who gets the most points. To continue the game, the host restarts for round 2 and again for round 3. It's very simple. Just make sure everyone has a piece of paper, a pencil, and do not cheat with their answers. Whoever has the most points at the end wins.
Can two people play Scattergories?
Yes, it is possible to play Scattergories with only two players. Once you start the game each player has to write down as many words as possible. Remember to make the answers unique, as you don't score a point if you have the same word as your opponent. Once time is up the 2 players compare answers. The player with the most unique answers for a category wins.
If there is a tie, play a tie-breaker where you pick a category and each player writes as many words as possible in one minute. The person with the most answers wins.
How to play Scattergories using City, Country, River
Another website where you can play Scattergories online for free is called City, Country, River. It is an easy site to use and you can play against AI robots or friends. To start a game you can choose the options, categories you want to use and invite friends to play. Once you've started a game you have a set amount of time to type in as many unique answers as possible. After each round, the scores are added up and after three rounds, the player with the most points wins.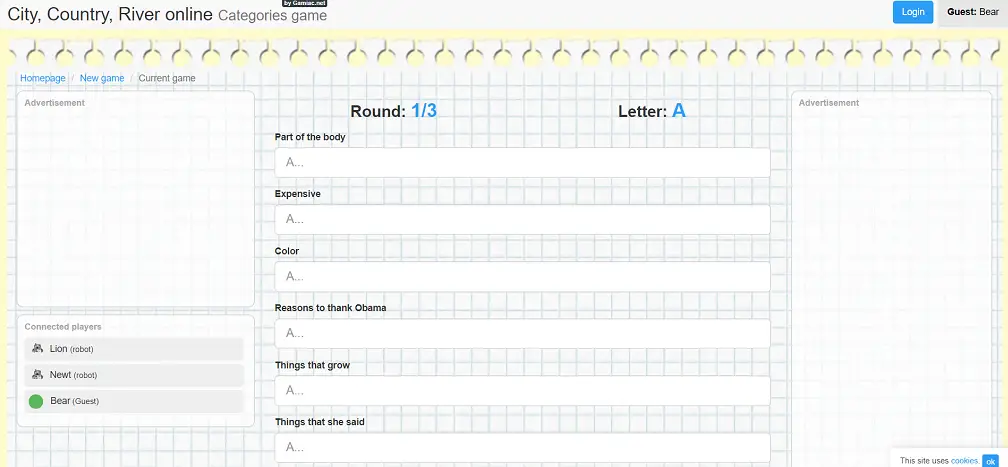 How to play Online Scattegories on Categories
Another online Scattergories game is called Categories. This Scattergories game is a sophisticated online version that can be played either in single or multi-player mode against friends or other people online. It is available in 22 other languages such as Spanish and Portuguese.
Categories is a free game, but players who wish to see their statistics need to login. Players select the 12 categories from a list of about 500 topics. Thanks to a comprehensive statistics function, players can see exactly how they measure up to other competitors from around the world.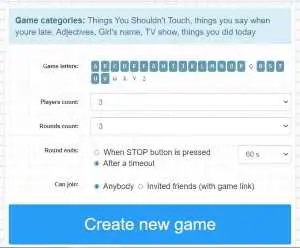 The Categories online game is supported with a dictionary and also keeps statistics of the game, making it interesting for players to compare themselves to other online players, both from their own countries and internationally.
Click here to play Scattergories Online!
Examples of

Scattergories List

s
Here is an example of topics on a typical Scattergories list:
| | | |
| --- | --- | --- |
| Books | Things you plug in | Historical Figures |
| Farm Animals | Type of drink | Reason to call 911 |
| Things made of Metal | Green Food | Things to do on a date |
| Words with double letters | Musical Groups | Countries |
| Villains/Monsters | Website | Sports team |
| Things that can kill you | Math Term | Fashion Brand |
| Famous Duos | Items in your room | Car |
| Personality Traits | Song Titles | Something you do every day |
| Names used in Songs | Things found in the ocean | Weekend activities |
| TV shows | Things to do at a party | Items in your bag |
Scattergories lists.
How to play Scattergories online without Zoom
ESL teachers who use school platforms to communicate with their students can also play Scattergories, using the Swellgarfo version. First, they set up the number of players in the Scattergories room and select the game categories the students must play, the number of rounds and allotted time, then copy and send the link to the players.
Students can type their answers and submit it in their chat boxes. Alternatively, they can write it on a piece of paper and show it to the teacher when the time is up.
How to play Scattergories in the Classroom
Playing Scattergories in the classroom is very easy. First place the students into pairs or small groups.
Hand each group a paper to write on and then explain the rules to them.
You will show them 10 categories.
Then you will pick a random letter.
They have to write down a unique word for each category.
After 3 minutes they will stop and everyone will show their answers.
They only get a point if they have a correct answer, and nobody has the same answer as them.
After 3 rounds you will count up the totals to find a winner.
You can use the Scattergories list in the article.
How to play Scattergories on phone apps
Teachers can in some cases also play Scattergories with their students using the app on their phones while using the school platform to discuss the words and points as the game progresses.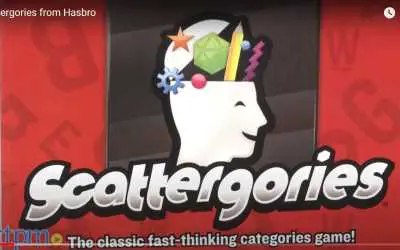 The Scattergories version on Google Play
An Android version of Scattergories by Magmic Inc can be downloaded from the Google Play store. It has a ranking of 3.7 stars overall and over 100,000 installations.  It allows play against another random player or connect it to play against other students or friends on Facebook. This app also has an auto-correct feature to improve answers plus a points and rewards system.
https://play.google.com/store/apps/details?id=com.magmic.android.squash&hl=en&gl=US
The iTunes version of Scattergories
Teachers and students can also play Scattergories on their phones or tablets using a free download by iTunes. This app requires phones with iOS 8.0 or better and has a user rank of 4.5 overall. The only complaint being long advertisements while playing on the free version. In tournament mode players can keep track of their wins on a leaderboard, earn points for time boosters and even dispute rejected words.
https://apps.apple.com/us/app/scattergories/id1011376303
Can Scattergories be played in other languages?
Apart from English, the Gamiac version currently supports the following languages: French, Slavonic, Russian, Croatian, Czech, Thai, Portuguese, Hungarian, Vietnamese, Swedish, Dutch, Italian, Romanian, Polish, Spanish, Turkish, German, Indonesian and Danish. (See the graphic below.)
Students can challenge friends, or play in a foreign language to improve their vocabulary. The game also or be motivated to be the best for their country for the past 24 hours, a week, a month, or since the inception of the game in 2016.  
How good are you at playing Scattergories?
From the following screen-print, readers can see the results of a quick test of one-minute games I've played against 2 AI players. It provides stats for the past 24 hours/week/month. On the left of the picture, the many nationalities of players can be seen.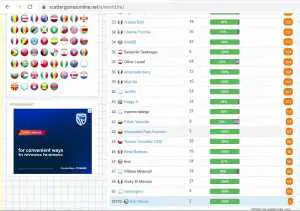 Conclusion
Scattergories is a fun and educational game great for any age that can easily be played in real life and online. Many ESL teachers successfully use the game in their classes to help their students improve their English vocabulary. Try Scattergories with your friends, family, or students as a fun, party game.